58. Microstructure regulation of polyamide nanocomposite membrane by functional mesoporous polymer for high-efficiency desalination.
Xiangju Song, Yuchao Wang, Chengli Jiao, Minghua Huang, Guang-Hui Wang*, Heqing Jiang*
Journal of Membrane Science, 2019 DOI:10.1016/j.memsci.2019.117783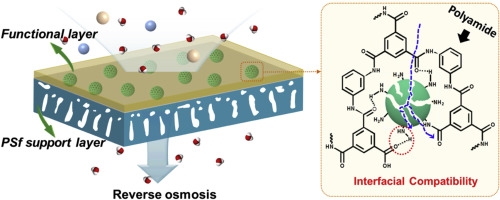 57. Ethane aromatization and evolution of carbon deposits over nanosized and microsized Zn/ZSM-5 catalysts.
Yan Zhang, Shide Wu, Xia Xu, Heqing Jiang*
Catalysis Science & Technology, 2019 DOI:10.1039/C9CY01903K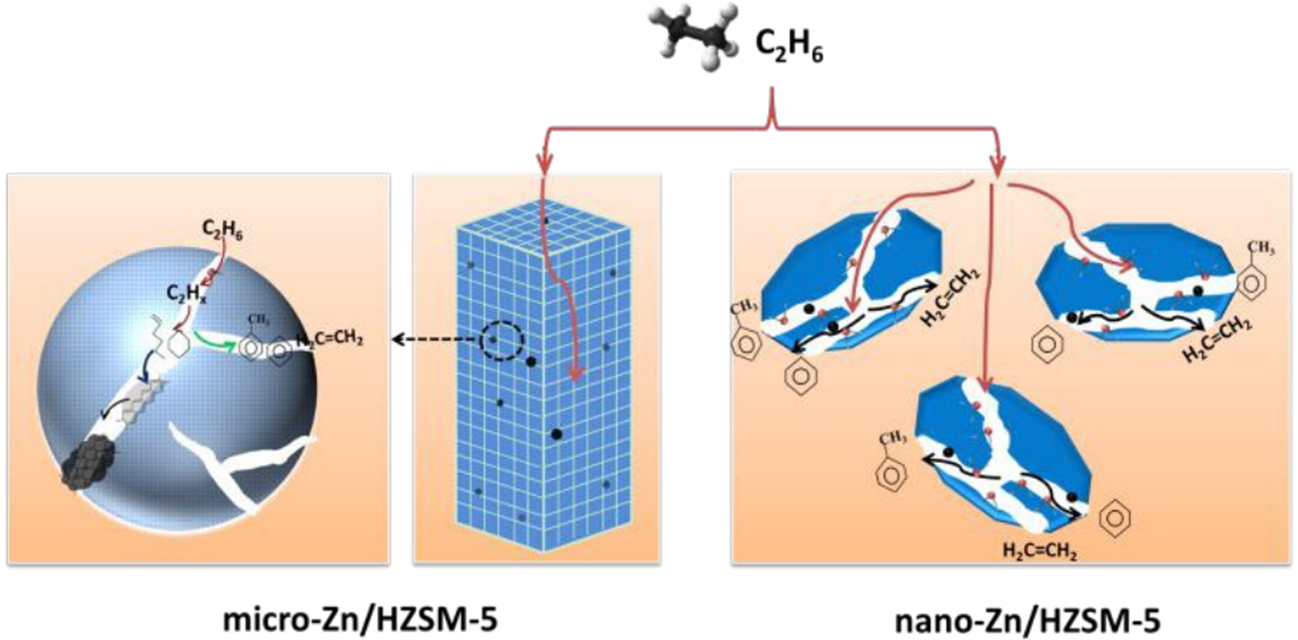 56. Hydrogen permeation through dual-phase ceramic membrane derived from automatic phase-separation of SrCe0.50Fe0.50O3-δ precursor
Lujian Jia, Saeed Ashtiani, Fangyi Liang, Guanghu He, Heqing Jiang*
International Journal of Hydrogen Energy, 2019 DOI:10.1016/j.ijhydene.2019.11.241

55. Ordered Mesoporous Alumina and their Composites Based on Evaporation Induced Self-Assembly for Adsorption and Catalysis
Xia Xu, Suresh Kumar Megarajan, Yan Zhang, Heqing Jiang*
Chem. Mater., 2020, 32, 1, 3-26. DOI:10.1021/acs.chemmater.9b03873
54. Chemical Environment-Induced Mixed Conductivity of Titanate as a Highly Stable Oxygen Transport Membrane
GuanghuHe, Wenyuan Liang, Chih-Long Tsai, Xiaoliang Xia, Stefan Baumann, Heqing Jiang*, Wilhelm Albert Meulenberg
iScience 2019, 19, 955-964. https://doi.org/10.1016/j.isci.2019.08.032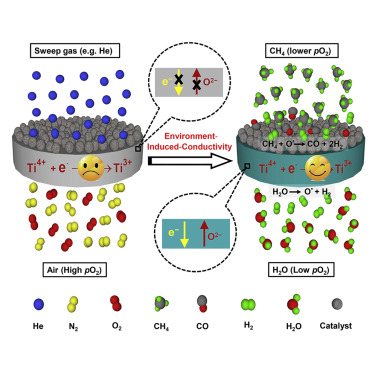 53. Temperature-Induced Structural Reorganization of W-doped Ba0.5Sr0.5Co0.8Fe0.2O3-δ Composite Membranes for Air Separation
Guanghu He, Qianqian Lan, Yoo Jung Sohn, Stefan Baumann, Rafal Dunin-Borkowski, Wilhelm Albert Meulenberg*, Heqing Jiang*
Chemistry of Materials 2019,31,7487-7492. https://doi.org/10.1021/acs.chemmater.9b02213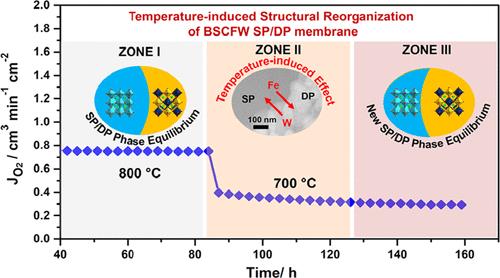 52. Innovative steam methane reforming for coproducing CO-free hydrogen and syngas in proton conducting membrane reactor
Xiaoliang Xia, Hangyue Zhou, Yan Zhang, Heqing Jiang*
AIChE Journal, 2019, 65, e16740. https://doi.org/10.1002/aic.16740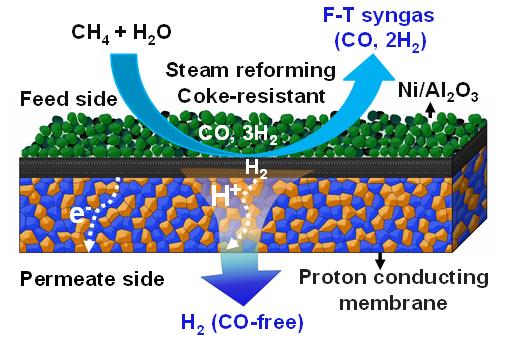 51. A Facile and General Strategy to Deposit Polypyrrole on Various Substrates for Efficient Solar-Driven Evaporation
Canzhu Wang, Yuchao Wang*, Xiangju Song, Minghua Huang, Heqing Jiang*
Advanced Sustainable Systems, 2019, 3 (1), 1800108. https://onlinelibrary.wiley.com/doi/10.1002/adsu.201800108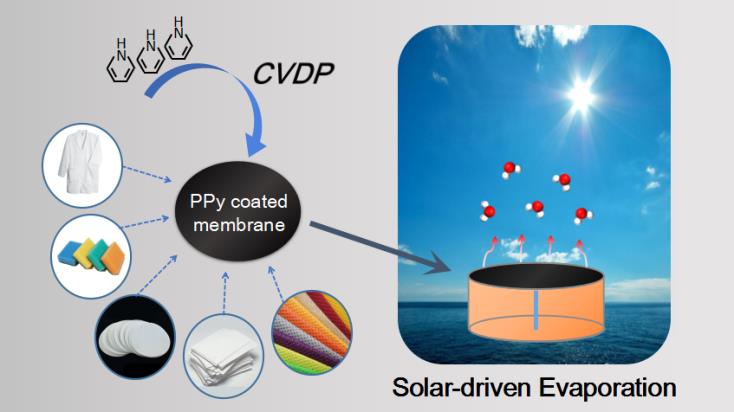 50. Solar-Intensified Ultrafiltration System Based on Porous Photothermal Membrane for Efficient Water Treatment
Xiangju Song, Yuchao Wang, Canzhu Wang, Minghua Huang, Saeed Gul, Heqing Jiang*
ACS Sustainable Chemistry & Engineering, 2019, 7, 4889-4896.
https://pubs.acs.org.ccindex.cn/doi/pdf/10.1021/acssuschemeng.8b05397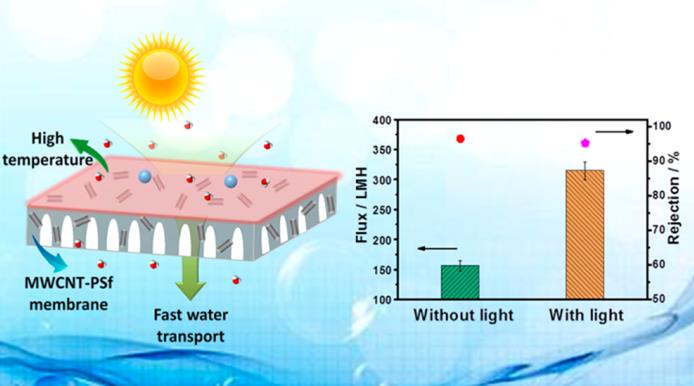 49. A GO-Induced Assembly Strategy To Repair MOF Nanosheet-Based Membrane for Efficient H2/CO2 Separation
Fangfang Yang, Mian Wu, Yuchao Wang, Saeed Ashtiani, Heqing Jiang*
ACS applied materials & interfaces, 2019, 11, 990-997.
https://pubs.acs.org.ccindex.cn/doi/10.1021/acsami.8b19480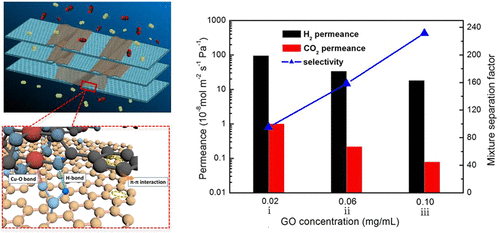 48. Cobalt-free dual-phase oxygen transporting membrane reactor for the oxidative dehydrogenation of ethane
Fangyi Liang*, Guanghu He, Lujian Jia, Heqing Jiang*
Separation and Purification Technology, 2019, 211, 966-971.
https://www.sciencedirect.com/science/article/pii/S1383586618326558?via%3Dihub